.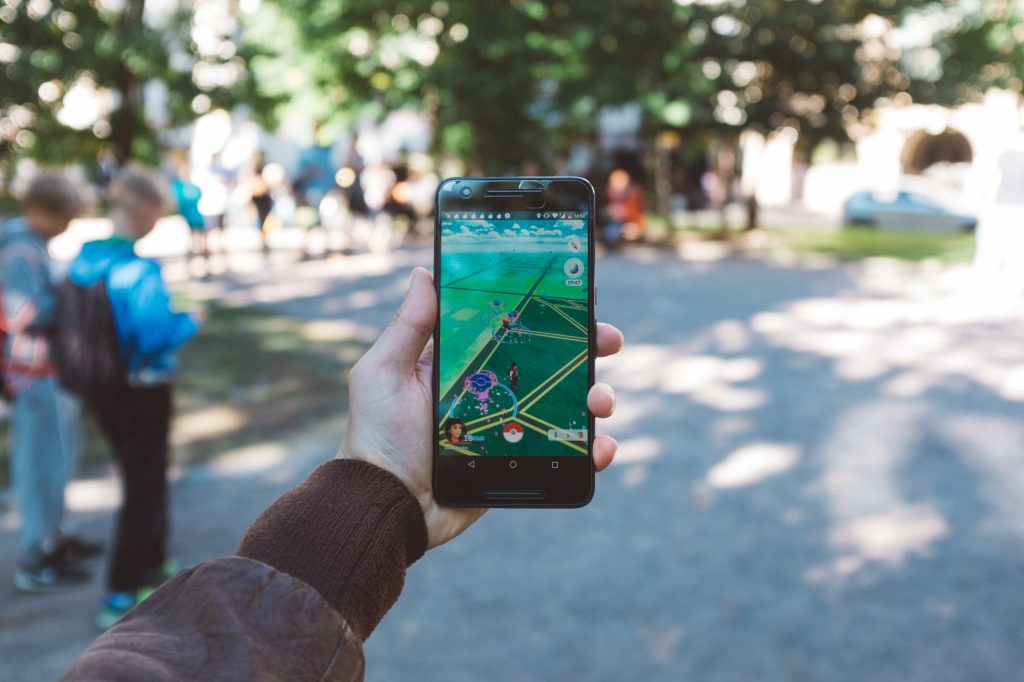 In 1992, a new form of technology emerged, developed for the U.S. Air Force. This new technology blended aspects of the digital world with the real environment for different sensory experiences while in training. This new technology, now referred to as "Augmented Reality" (AR), became more popular and widespread as companies began adopting the same style of technology for business purposes.  Virtual Reality provides an immersive and isolated experience. Augmented Reality, however, uses your actual surroundings and layers of virtual content on top.
The popularization of mobile smart devices has brought a variety of new apps to help brands engage with their audience. We have seen increasing use of Augmented Reality technology with video games.  Pokemon Go, for example, provides an alternative digital experience for its users in a fun and engaging manner. While gaming was the most popular use for AR, we are seeing more brands using AR to engage with their customers. All types of industries, including construction, healthcare, and even food, can use AR technology for better experiences with their audience! With our technology improving daily and becoming more widely available, AR will continue to grow and become essential for businesses to adapt.
Why Does This Matter?
The introduction of Augmented Reality technology into marketing opens up an entirely new world for businesses to connect and engage with their audience. We live in a digital world where social media and technology drive people, and having this technology at your disposal will only provide new marketing channels for your business. Using AR technology for marketing purposes is still a relatively new concept, and research shows that the AR market size was approximately $3.5 billion in 2017 but is forecasted to increase to $198 billion come 2025. Using AR technology allows brands to reach their audience in a new and exciting way.
Building an Emotional Connection
Today's consumers value brands that are relatable and trustworthy. They desire secure connections with the brands they are purchasing. As a company, you must provide your audience with something they can grow a relationship with. Since augmented reality is so immersive, it can help brands share content that will lead to an emotional connection. A lot of content shared like photos, and promotional pieces are static or have a minimal opportunity for involvement, whereas AR content is interactive and lifelike!
Using AR can help you share great stories and content, getting your audience more invested than a simple picture. Since your audience is getting to engage with the content, they will develop stronger feelings and connections with the content within. By allowing your customers to become more involved with your brand, you will gain their trust and establish a secure emotional relationship. Much like how you become emotionally invested in a movie or video game, augmented reality works, in the same way. It tugs on your heartstrings and provides real emotion.
Increased Engagement & Retention
Offering your audience engaging and enjoyable experiences is important when trying to build strong relationships. Providing AR experiences is a great way of getting consumers to engage with your brand. They will be downloading your app and interacting with the different experiences your brand can provide. Using Augmented Reality provides your audience with a brand experience they would not get otherwise. Getting to interact directly with your brand presents a new level of excitement for your customers.
Releasing new products and offering an array of different VR experiences will help you increase your customer retention as people will want to keep coming back and purchasing your products to enjoy your next experience. By also providing experiences that are product-specific, you can also tap into the fear of missing out, which is a form of social anxiety stemming from our fear of missing out on something exciting. Having product-specific experiences means that customers will become more likely to stick around and purchase your products to enjoy the attached AR experience when it is still new and relevant.
Brand Awareness & Sales
Using augmented reality is becoming an excellent channel for increasing brand awareness. Using this style of content can help you build brand awareness. Especially since it uses the same personalized characteristics of social media. With increased emotional connections, people will be talking about your brand. New AR experiences always generate buzz and excitement. Many of your consumers who engage with your AR will share their experience with friends and family who are going to want to experience it for themselves. Using AR in your marketing can help you generate buzz, increase word of mouth within your audience, and be a significant boost to your publicity. With this technology being so new to consumers, using AR in your marketing efforts will help build excitement with your audience and make your brand more memorable!
Augmented reality marketing can also help boost your sales, just like other forms of marketing. Much like ephemeral content, AR can help generate an immediate reaction from your audience. While the majority of AR marketing is not temporary, it can help you induce purchases based on your impulsive tendencies. Many companies, especially in the furniture and fashion industries, are using AR to offer their customers virtual "try-on". Buyers can try virtual products before they make their purchase! For example, a customer looking to purchase a new couch could take a picture of their living room, then try a variety of couch models to see what fits best. Having immersive and engaging experiences with brands, you will increase your audience's expectations and trust making them more likely to buy from you!
Augmented Reality Marketing in Use
19Crimes
Australian-based 19 Crimes has become a famous winemaker after bringing to market a bottle with an AR technology label. Aside from wonderfully tasting wine, 19 Crimes has incorporated what they call "Living Labels" into their product. Every bottle is branded with a different British convict who was exiled to Australia during the 18th century. Each has committed one of the infamous "19 crimes" of the time. Each convict has a unique QR-style code hidden within. The consumer downloads an app to their phone, and when they scan the bottle, the pictured convict comes to life. Through AR technology, you get to hear the stories of some of the world's most fascinating criminals from their perspective. 19 Crimes utilize AR technology to provide an exciting and vibrant experience with your average wine bottle. This gives them a fantastic competitive advantage in the wine market.
Ikea 
Ikea is using AR technology to change the way people shop for furniture. Through a smartphone app,  you take a picture of your space to then mix and match different furniture. This allows the customer to find their perfect combination. Being able to see items in their intended place makes shopping more comfortable and more convenient. It also increases the likelihood of the consumer making quick purchases through online shopping. Consumers no longer have to visit a showroom or go through the trouble of bringing massive furniture home. They can find what they want and have it delivered to the door. Using AR technology can help you provide a more enjoyable shopping experience for customers. It will also be highly entertaining!
You can find more examples of great marketing using AR technology here.
Conclusion
The use of AR technology is becoming more prominent and user-friendly. We are seeing more and more companies use it to their advantage. It can help provide a better experience for your customers and enhance your digital marketing. With the popularity of AR technology expected to grow, there is no better time for your business to start using AR technology in your marketing portfolio!